When:
February 23, 2018 @ 7:30 pm – 8:30 pm
2018-02-23T19:30:00-07:00
2018-02-23T20:30:00-07:00
Where:
Tangible Fitness
1500 E Thomas Rd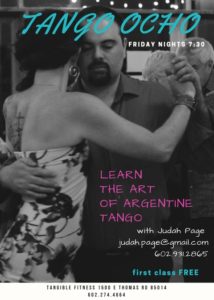 Tango Ocho is an environment open to everyone. It is a meeting place to socialize, exchange, learn, and practice tango as a way of communication. The idea is to learn and express tango as a meeting of technique, social connection, history and culture.
Classes will present the opportunity to learn both roles – leading and following both are taught from the beginning.
Tango as we know it today is defined as, "moving in time to a beat" but it's more ancient origins would say to dance was to follow the immortal path of the sun which was believed to impart longevity to the dancers.
An ocho is a figure eight pattern in tango, "enlacing two circles" performed as a sign of balance but there is also a deeper meaning that allows for two ways of seeing, "going deep in tradition and coming back".