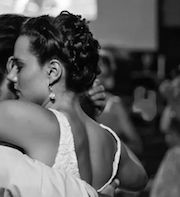 After coming to Phoenix in 1995 as a refugee, Inja found happiness and peace in music and dance. Tango chose to come in her life when she was a student at ASU while taking other dance courses at the same time. Although she learned and danced all of them, tango was the only one that stole her heart. She graduated from ASU in 2011 and went on to study law also at ASU, graduating in 2014. She used tango as her stress release and escape from the high stress of the law school environment– taking classes and practicing every day. She goes to Europe every year for at least 3 months at a time where she studies with a sea of top dance instructors of which Alessio Altieri and Aretuza Griep Viana in Florence, Italy have had the most influence on her. Alessio and Aretuza went on to win the Italy Tango Salon Championships in 2014. After many years of dancing and taking lessons intensively, Inja realized what tango is all about at a deeper level. That is why she focuses her classes on what she considers the whole purpose of tango: connection (the embrace) and music.
Inja broke the bank taking private and group lessons from countless instructors including: Alessio Altieri and Aretuza Griep Viana; Noelia Hurtado and Carlitos Espinoza; Chicho Frumboli and Juana Sepulveda; Jesica Arfenoni and Maximiliano Cristiani; Sebastian Jimenez and Maria Ines Bogado; Brian Nguyen and Yuliana Basmajyan; Ney Melo; and Yailet Suarez (Cuba) just to name a few. Inja continues to take lessons with world class instructors every chance she gets, because in tango one is never done learning. She is an active dancer in the local community and goes to festivals/marathons in the U.S. and Europe very often.
Recently, Inja became the new Argentine Tango professor at ASU for Tango 1 and 2 coming back full circle to where it started. In addition, she started her own milonga – Milonga Sin Frio – meaning milonga without cold, to promote warmth in the community, where everyone can feel welcome. She also has taken over the Tuesday practica at SNAP where she will be generously sharing all the knowledge and skills she has learned over the years without holding anything back. The practica will also host local instructors, such as Jeff and Neri, and visiting instructors that she has personally taken classes with and learned from. She will be bringing instructors for weekend workshops including Cristian Sierra and Jeanine VanSise and even the infamous Macana Brothers from Buenos Aires!
Inja is available for private lessons and offers a very high discount for students. Please contact her directly at InjaVojnovic@gmail.com to schedule. The goal is to not have money get in the way of the gift of dance, as it had for her during her childhood.
Click for a brief sample of her dancing at a Tucson performance June 2015: https://www.youtube.com/watch?v=E11zRL9s5E8