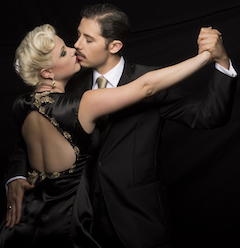 2014 USA National Champions, an elegant couple dedicated to teaching deep connection and beautiful movement.
Nicholas and Stephanie are madly in love; with tango and each other. They partnered in 2012 and are ecstatic to have found one another. They continuously work on their dancing as well as their teaching methodology by training in Buenos Aires during the summer months. Together they form a harmonious dance partnership and a union of two teachers dedicated to their craft. In late 2015 they moved to Phoenix from the Bay Area. When they aren't touring, they are focusing their energy on opening a dance studio in Phoenix.
Stephanie has performed classical ballet semi-professionally for 13 years. She has studied modern, jazz, contemporary, hip hop, and west african dance. As a professional teacher, her ballroom students excelled in competition taking firsts in a variety of categories. Her keen eye, experience, and understanding of body mechanics allow her to help any student quickly meet their dancing goals.
Nicholas found partner dancing in high school. He danced with various groups in college including Salsology, Cotillion and Racíes de mi Tierra (folklorico) and became a professional dancer and instructor in 2008. He has extensive experience teaching students of all backgrounds, pulling out the best in each and every one of them.
Contact:
www.nicoandstephie.com
call or text: 510 244 4936
email: nico.stephie@gmail.com
facebook: https://www.facebook.com/nicoandstephie
youtube: https://www.youtube.com/nicoandstephie
instagram: https://instagram.com/nicoandstephie/